In the run-up to the 2020 election, debates about "electability" occurred against an historic yet overlooked upheaval in American politics. Women and people of color were winning more elections to federal, statewide, and state legislative offices – while white men's share of seats declined.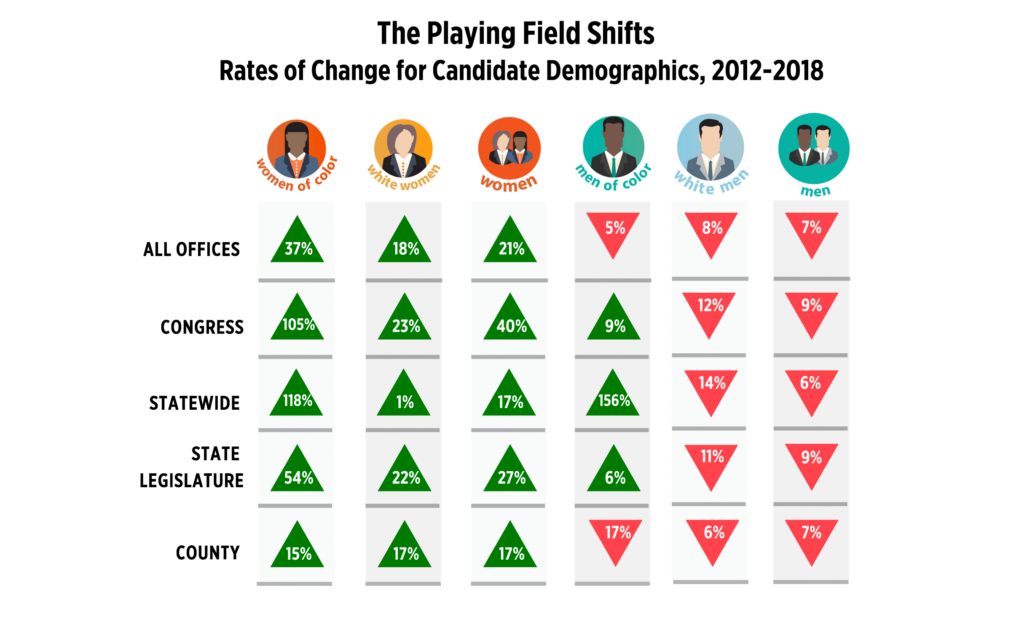 In 2019, we found white men massively over-represented in politics: At 30% of the population, they held 62% of offices. But since 2012, women and people of color had been chipping away at white male overrepresentation, winning a record-breaking share of political power at the federal, state, and local levels.
Women of color – the most under-represented demographic – were on the rise, making major gains in elections at every level of office.
Women – both white and of color – increased their share of seats in Congress by 40%.
Men of color won more seats in Congress, statewide office, and state legislatures.
The only demographic whose political power ebbed at every level of office were white men.
In the Media
In the 2018 election cycle, women and people of color were just as likely as white men to win their races once they were on the ballot, according to a report by the Reflective Democracy Campaign. And with Democratic women running in record numbers, it was women–and, importantly, diverse women–who flipped the House from red to blue.

"Vote for the Woman Because She's a Woman." Time Magazine